site_ref =
site_mode = SKI
prm_site_mode = &mode=SKI
prm2_site_mode = ?mode=SKI


true true
2
$goods.zaikosu <= 0
genre_path[0].id = 204
genre_path[1].id = 204-206
site_ref =
site_mode = SKI
prm_site_mode = &mode=SKI
prm2_site_mode = ?mode=SKI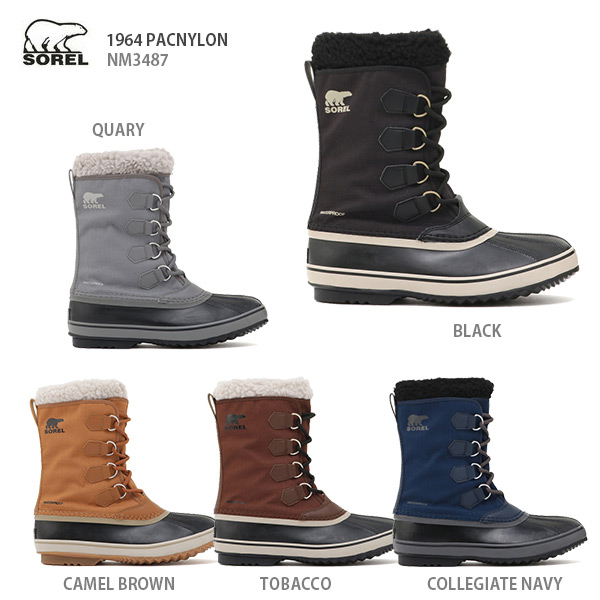 SOREL1964 Pac Nylon NM3487 - 2020
【OLD】

Original Price:15400JPY
Price :
15,670 JPY
112.66 $(USD)
-2% off
Item Number:cd40016
〇→ in stock ×→ out of stock

SOREL Men's snow boots

1964 Pac Nylon NM3487

size: 25-30cm

weight (approximate): 714g / foot

Material:
[upper] Hydroguard backing processed textiles, soft synthetic rubber
[lining] 9mm inner boots
[midsole] 2.5mm thick felt made by frost plug
[outsole] rubber

Overview nylon upper which has been subjected to processing to prevent the intrusion of
water and wind It is snow boots plus a fit and lightweight feel. Washable specification 2.5mm frost flag to prevent cold air from entering from recycled felt inner boots and cold ground of 9mm thickness that can be maintained in a sanitary manner in the corresponding also to the cold climates of -40 degrees. Equipped with a good herringbone rubber sole grip force using the vulcanized process. Casual atmosphere of nylon will match casually even in town use.

site_ref =
site_mode = SKI
prm_site_mode = &mode=SKI