All Items
>
New Model・Allround Ski
>
【New Allround】FISCHER
>
〔HC〕FISCHER〔Ski〕<2019>RC4 THE CURV GT + MBS 13 RC4 Powerrail Brake 85 F【★★】
〔HC〕FISCHER〔Ski〕<2019>RC4 THE CURV GT + MBS 13 RC4 Powerrail Brake 85 F【★★】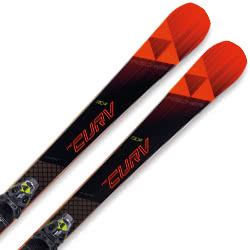 〔HC〕FISCHER〔Ski〕<2019>RC4 THE CURV GT + MBS 13 RC4 Powerrail Brake 85 F【★★】
Item Number:cd34918
*Gross Weight(G.W.)

9000g

→ about Shipping Cost

Proper Price:156600JPY
Price :
86,000 JPY
≈ 766.68 USD

■ 168cm R: (- m) side cut: (- / - / - mm)
■ 175cm R: (16m) side cut: (129/80 / 112mm)
■ 182cm R: (- m) side cut: (- / - / - mm)

DIN: 4-13

TECHNOLOGY-HIGHLIGHTS:
· DIAGOTEX
· Triple Radius
· Free Milled Titanium

CUSTOMER BENEFITS:
· dynamic turn
· high ski to accelerate only overlap enough to overlap the 80mm waist
· Original World Cup-yellow base

turn to produce the excellent turn feeling stability, that's exactly what dynamic ski charm. Kano like strong G was like became a professional racer in turn .... This feeling is not never compare favorably with the ski racing to compete in the FIS Skiing World Cup. Notably improve the ski control performance, side-cut set to enable the turn at high speed and triple-Radius, and, curve Booster plate, further, carbon that has been adopted in the racing ski professional by an integrated lamination technology "DIAGOTEX" a number of high-tech technology, RC4 tHE CURV realize the power transfer not to loss of speed, to allow powerful turn and sharp acceleration, such as if it exerts a gene of racing skis. It would be felt by the adrenaline rush, such as breathtaking in every turn!


FISCHER〔フィッシャー スキー板〕RC4 THE CURV GT + MBS 13 RC4 Powerrail Brake 85 F