All Items
>
New Model・Allround Ski
>
【New Allround】BLASTRACK
>
〔HC〕BLASTRACK〔Ski〕<2019>ELIXIR + <19>ATTACK2 11 BK【●】
〔HC〕BLASTRACK〔Ski〕<2019>ELIXIR + <19>ATTACK2 11 BK【●】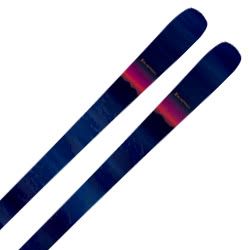 〔HC〕BLASTRACK〔Ski〕<2019>ELIXIR + <19>ATTACK2 11 BK【●】
Item Number:cd36541
*Gross Weight(G.W.)

9000g

→ about Shipping Cost

Proper Price:114480JPY
Price :
97,800 JPY
≈ 876.55 USD

■ 157cm R :( 13.8 m) side cut: (125 / 80.5 / 110mm)
■ 165cm R :( 15.4 m) side cut: (125 / 80.5 / 110mm)
■ 171cm R :( 16.7 m) side cut: (125 / 80.5 / 110mm)
■ 177cm R :( 18.0 m) sidecut: (125 / 80.5 / 110mm)

structure: shell top
constituting material: lightweight wood core special FRP
Running surface: sintered base graphite
cross structure "ELIXIR" of seamless special stainless steel

TECHNOLOGY
· Contact Control
· FALT TAIL

the current fiscal year a full model change: & ceramic disk finish
edge. In
condition of the slopes, sharp turns, grip, in addition to high response. With a flex that draw the stability and variety of turn arc at high speed, it is exactly what the birth of the slopes all-round skiing. By function and the tail of the round to match the bending in the turn of the ski
inherited from the first generation "Contact-Control", it can now be more natural and smooth turn.
while as long as possible the contact snow length of the edge, in the shape to reduce as much as possible resistance to the snow surface in turn, rough terrain from the snow-packed burn, is a ski Ikeru boarded firmly to powder.


BLASTRACK〔ブラストラック スキー板〕ELIXIR〔エリキサー〕