All Items
>
Old Model・Allround Ski
>
【Old Allround】OGASAKA・TC
>
OGASAKA<2018>TC-SC + FL585 + FREEFLEX PRO 14
OGASAKA<2018>TC-SC + FL585 + FREEFLEX PRO 14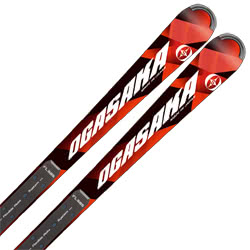 OGASAKA<2018>TC-SC + FL585 + FREEFLEX PRO 14
Item Number:cd31104
*Gross Weight(G.W.)

9000g

→ about Shipping Cost

Proper Price:168480JPY
Price :
99,800 JPY
≈ 886.04 USD
■155cm R:( 11.3 m) Side cut:( 120/67/101 mm)

---
■160cm R:( 12.1 m) Side cut:( 120/67/101 mm)

---
■165cm R:( 12.9 m) Side cut:( 120/67/101 mm)

---
■170cm R:( 13.8 m) Side cut:( 120/67/101 mm)

---
Weight:
1,079(g/m)〔ONLY Ski plate 1/2 set〕、Plate:1/2set About 514g

Technology
FFS(Front・Float・System)
FLF(Front・Lead・Function)

Construction:
Sandwich

Material:
NF Wood Core
AL7178、Special FRP、Special FRP (ZTC type)、Special rubber sheets

Bottom surface:
Material:UHMW-PF Graphite
Finishing:Micro stone、ceramic desk finish
Structure:Cross

Edge:
seamless


This is a short turn racing model. No matter which kinds of ski slopes, it will be perfectly performed. High competition model designed.
16-17モデルと違い「フルサンドウィッチ」になり、
モールドも変わり全体的に「剛性」「バランス」を変えたスキーになってます。
16-17モデルよりもしっかりしたスキーになったので
乗り手によっては先シーズンモデルの方が乗りやすさを感じるかもしれません。
メーカーさんいわく、技術選などでスキーの後半の走りを出す為に作られたモデルだそうです。

ケオッズシリーズも悪くないが、板の走りを取るならこの一台!
スイングウェイトは軽く、ターン後半にはしっかりと板が走ります。
試乗サイズ 165cm / 自己採点:80点